Emir Sensini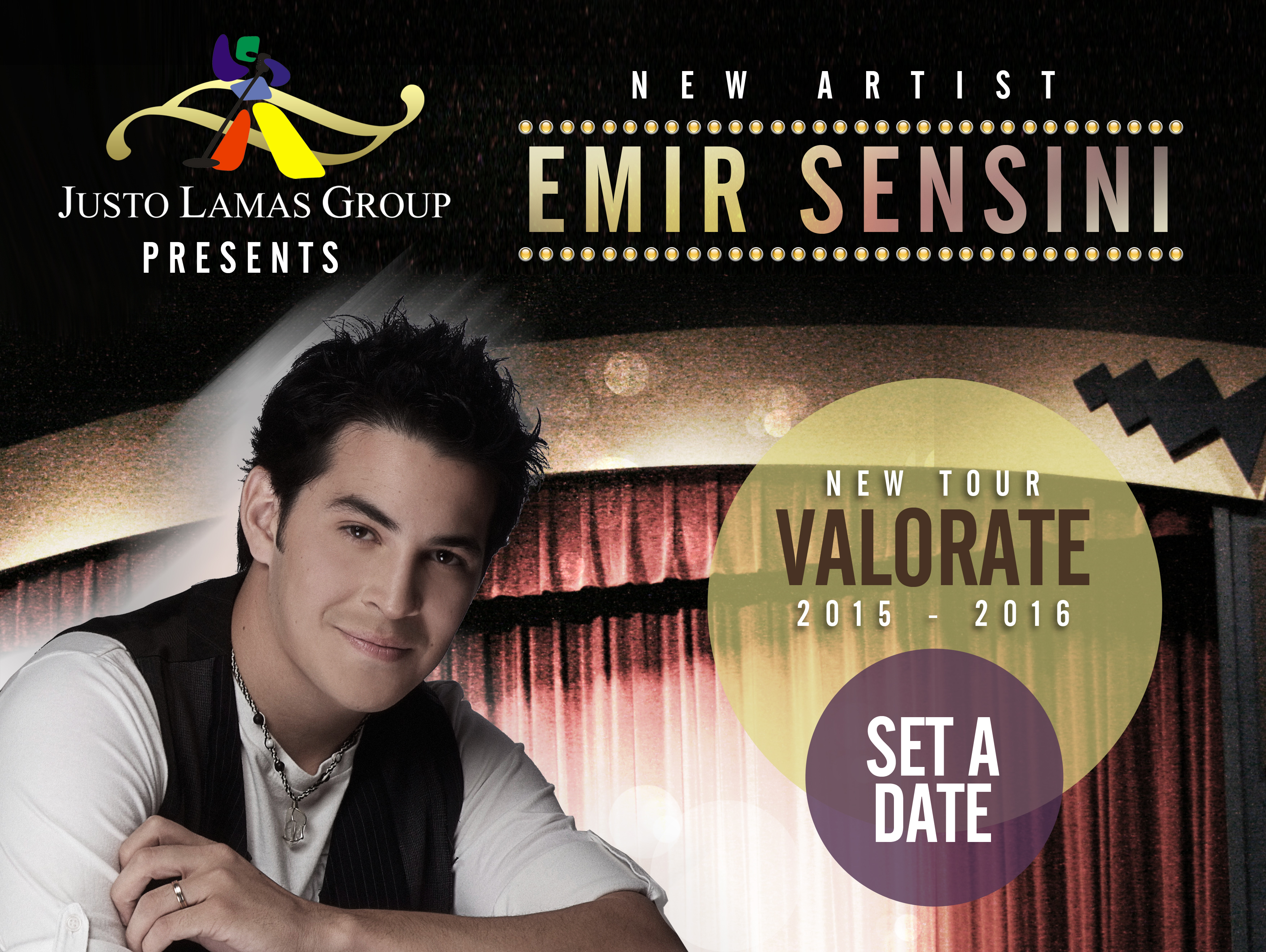 A new artist has joined the Justo Lamas Group Educational Concerts
Set a date now to see Emir live in concert!
Emir's Biography
Emir Sensini was born on April 6th in the city of Rosario, Santa Fe province (Argentina) to Oscar Jesús and Marycarmen Sensini and became brother to four other children, Judith, David, Natanael and Eloy. He began singing in the local church at the very early age of four. In the coming years he would become highly successful in his day-to-day life, completing his studies and playing soccer for the "Rosario Central" team and making it into the fourth division of the AFA (Argentine Football Association). Upon reaching the age of 18, he had to take one of the most important decisions of his life, leaving everything behind to dedicate himself full-time to his life's purpose.
With a deep passion for music and singing, Emir composed his first songs, with all his heart, voice and energy, so that he could reach his greatest dream. In 2002, he released his first production, "Déjate Llevar", which gave him the chance to find his way into the hearts of teens and youth in a number of countries. In 2005 he achieved his goal of recording a beautiful disc entitled "Valórate", where an important part of his personal experience can be heard. The disc made its way into thousands of homes, hearths and hearts and into nations such as Spain, Venezuela, Colombia, Mexico, Bolivia, Ecuador and the United States. Emir has left his unforgettable mark in each of these places, with all the emotion found in each song that this outstanding artist creates. Today, Emir lives in the United States with his wife, Soledad, where he is projecting his career into all of Latin America and the United States, promoting his most recent production entitled "Hoy me rindo a Ti". This work includes three video clips which were recorded live in his city of birth.
Emir has made his way into singing in the schools of the United States from the hand of Justo Lamas Group. The new tour will be launched in the 2015-2016 school year and will be known as "Valórate!" It will be a wholly new production, with songs sure to move the youth of the United States. Today, Emir is working together with Justo Lamas on the tour's production.
Biografía
Emir Sensini nació un 6 de Abril en la ciudad de Rosario, Santa Fe (Argentina) en una familia, compuesta por sus padres, Oscar Jesús y Marycarmen Sensini y sus cuatro hermanos, Judith, David, Natanael y Eloy. Desde muy pequeño, apenas con 4 años, Emir comenzó a cantar en la Iglesia, al pasar los años, su vida cotidiana transcurrió con gran éxito terminando sus estudios y jugando al Fútbol (soccer) en un equipo llamado "Rosario Central" hasta llegar a la cuarta división de AFA, (Asociación de Fútbol Argentino) por lo que a los 18 años tuvo que tomar una de las decisiones más importantes de su vida, dejándolo todo para dedicarse completamente a su propósito.
Apasionado por la música y el canto, compone sus primeras canciones, dedicando su corazón, voz y fuerzas para lograr alcanzar su gran sueño. En el año 2002 lanzaba su primera producción titulada "Déjate Llevar" la que le dió la oportunidad de entrar al corazón de adolescentes y jóvenes de diferentes países. En el 2005 logró alcanzar la meta de grabar un disco maravilloso, titulado "Valórate", en el cual se refleja gran parte de su testimonio personal y vivencias que se introdujeron en miles de hogares, rincones, corazones y países tales como España, Venezuela, Colombia, México, Bolivia, Ecuador y Estados Unidos, marcando en ellos la enorme tendencia y emoción que producen cada tema de este gran Artista.
Actualmente está viviendo en los Estados Unidos junto a su esposa Soledad, donde esta proyectando su carrera para todo latinoamerica y Estados Unidos, promocionando su más reciente producción llamada "Hoy me rindo a Ti" La misma contiene la producción de 3 video clips "Hoy me rindo a ti" – "Esta Nación hoy vuelve a ti" y "Maravilloso" grabado en vivo en su Ciudad natal.
Emir comenzará a cantar en las escuelas de los Estados Unidos de la mano de Justo Lamas Group. El tour dará comienzo en el período escolar 2015-2016 y se llamará Valórate! Tendrá una producción nueva, con canciones que impactarán a los jovenes estadounidenses. En estos momentos se encuentra trabajando en la producción junto a Justo Lamas.