Tocaré el Cielo Album

Note:
 This CD and its music is not intended for public schools because public schools can neither foster religion nor preclude it according to the US laws.
Son tantas las personas que me brindan su cariño y apoyo que no terminaría más.
Pero no quiero dejar pasar esta oportunidad de agradecerle al único que concede todos los sueños anhelos, Jesús. También a mi amada familia, a mi amada esposa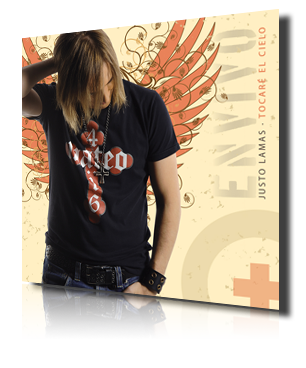 Evangelina y a mi hijita Camila, que llenan mis horas y minutos con su intenso amor.
A Canzion por su apoyo incondicional; a Juan Salinas por el genio que es; a Dami por acompañarme en este camino y pelear juntos esta batalla.
No quiero dejar pasar este momento y hablarles a ustedes que compran mis discos, tal vez, con mucho esfuerzo, que puedan aprovechar cada canción para cantarla con el corazón enaltecido al número Uno de todos, Jesús.
Un fuerte abrazo. Justo Lamas
PLAY SONG